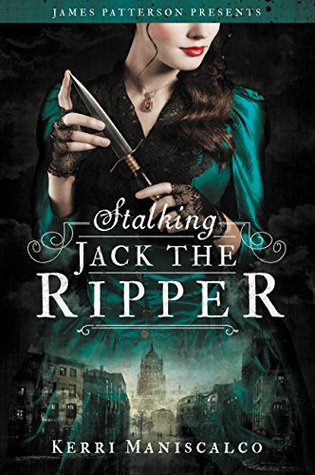 Release Date: September 20, 2016
Read Date: November 11, 2016
Rating: 4/5 stars
I'm not going to lie to you guys, the main reason I even looked at this is because Kerri and I share a name (with a spelling as rare as ours, it's exciting to see someone with it and we're both Italian, to boot). But I also have a huge love for Victorian literature AND murder mysteries, so this was literally the perfect combination for me.
Maniscalco brings us a revolutionary character is Audrey Rose, who dreams of going to medical school and interns with her ME uncle on the down low, helping with autopsies and solve crimes the police bring to her Uncle Jonathan. It is here where the search for the Ripper's victims begins, as Jonathan is called in to consult on the case. Audrey Rose now has to reconcile her hidden desire to become a scientist, society's expectations for her as a female and a crazed maniac on the loose in London, killing people with whom she appears to have a connection.
Along the way, we have the infuriatingly smart and smug Thomas, who is an actual student of Jonathan, helping with the medical necessities as well. He, of course, becomes our brooding but cocky love interest, but I'd be lying if I said I wasn't swooning at least a little bit when he was around. Readers who enjoy the Alpha male, arrogant but still sweet characters will fall in love just as I did.
The plot was intriguing and I honestly did not see the plot twist coming. Though upon a reread, it was easy to see the hints that had been sneakily dropped throughout the manuscript.
The writing is superb and I cannot wait until Hunting Prince Dracula drops later this year! This book is a fun whirlwind of a ride that, while not the best piece of literature ever written, has heart, humor and mystery that will keep you hooked late into the night.
To keep up with what I'm reading, be sure to friend me on Goodreads!