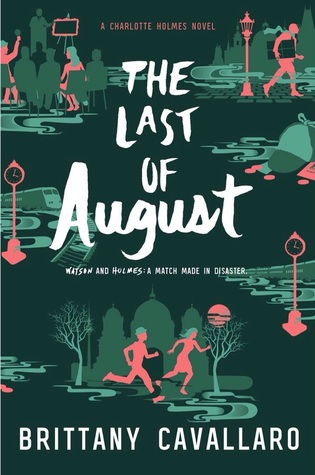 Release Date: February 14, 2017
Read Date: March 22, 2017
Rating: 4.5/5
**This review may contain spoilers for the previous books in the series**
The Last of August is the second novel in the Charlotte Holmes series and follows the events of A Study in Charlotte. Jamie and Charlotte are getting some space from the school craziness over Christmas Break, as they head to Charlotte's home in London. The female Holmes' life is as mysterious as her and to boot, and a family member goes missing. Charlotte and Jamie must now team up with her brother and August Moriarty to worm their way into an art forgery ring and find out what exactly happened to Charlotte's favorite uncle.
Cavarallo keeps the immersive experience from A Study in Charlotte going in this sequel, while at the same time keeping the reader questioning what is real and what exactly is happening. Keeping us in Jamie's head leaves so much to be revealed. The characterization of Charlotte is enough to keep reading, but the complex plot and mystery following the disappearance of Uncle Leander stands on it own as well.
The evolving relationship between Jamie and Charlotte is purposefully foggy,  but it's becoming clearer bit by bit. Truthfully, it is their series of interactions that keep me interested in this series. Their relationship, which stands on a strong foundation of friendship and understanding, is entertaining and heart-warming to say the least. Hopefully we will see it reach a definite standing in the final book.
Overall, if you enjoyed A Study in Charlotte, The Last of August will definitely satisfy the craving for more of the dynamic duo while giving you a new mystery to ponder. It will also leave you desperate for the finale, so be prepared to be left hanging and checking the release date of "The Case for Jamie" (which is currently slated as March 16, 2018).
To keep up with what I'm reading, be sure to friend me on Goodreads!