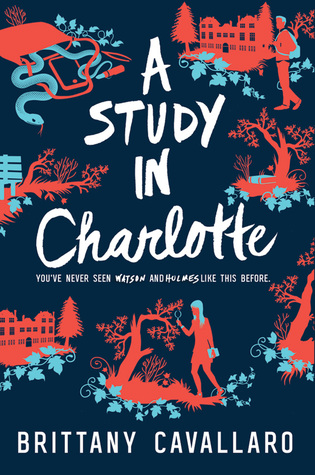 Release Date: March 1, 2016
Read Date: May 19, 2016
Rating: 4.5/5 stars
A Study in Charlotte offers a fresh new take on the beloved Holmes and Watson adventures. By referencing Sherlock and John as actual people, the novel is able to honor the original text while creating a modern unique story, instead of trying to recreate it.
The mystery in ASiC is a classic – a murder for which Charlotte Holmes and Jamie Watson are framed – but the newest reincarnations of the famous dynamic duo create a completely new dynamic. Charlotte and Jamie both remind the audience of their predecessors and stake their own claim as characters. With the duo being opposite sex, their interactions would be expected to be romantic, but Cavallaro does justice to the original H&W and focuses on the growing friendship and trust between Charlotte and Jamie as well as the investigation itself and the impacts it has on their lives. There is some hints at future romance, but the relationship is just beginning and more closely resembles the close partnership of their namesakes.
Cavallaro's writing is fresh, enticing and, most importantly, realistic. Charlotte and Jamie are high school kids, which – rightfully – severely limits what they can contribute to the investigation without the cooperation of law enforcement. It was nice for once to not have to suspend disbelief while teenagers run around, wrecking havoc and catching bad guys without any repercussions. However, due to the realism, the pacing is not as fast and exciting as one would typically get from a YA Mystery. This can be a positive or a negative, depending on personal preference, but I personally quite enjoyed it.
Overall, A Study in Charlotte is a bold YA debut and leaves the reader wanting the rest of the trilogy, like, now. Without a doubt, one of the best reads of 2016.
To keep up with what I'm reading, friend me on Goodreads!