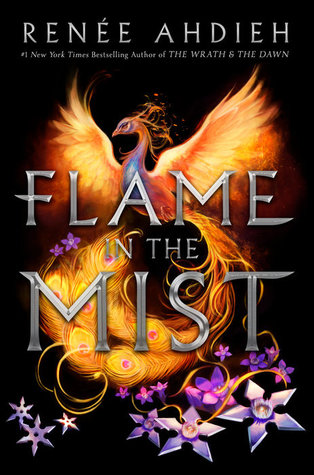 Release Date: May 16, 2017
Read Date: June 9, 2017
Rating: 3.5/5 stars
Flame in the Mist follows Hattori Mariko (mind, given name comes second in Japan, so her name is Mariko), who is being transported to the Imperial City to marry the Emperor's eldest son when her carriage is attacked and she barely escapes with her life. Thinking that the legendary Black Clan terrorist group was probably hired to kill her, she disguises herself as a boy and infiltrates the male-only clan in an attempt to discover the truth.
I have so many mixed feelings on this book, y'all. On one hand, the feminism is definitely strong and I loved how Mariko is clearly not a warrior but a tactician and inventor. Her intellect is as valuable and useful as the physical prowess of the other Clan members. I loved her tenacity and the struggle she clearly has with being in the situation she is in. Other female character like Yumi also demonstrate that there is more than one way to be strong and fierce and I am HERE for it. To top it off, the male Clan members are super feminist themselves and treat the women they interact with with respect and as equals.
The world building is also incredible; feudal Japan is such an interesting time period to study and the influence was definitely clear. The social structure seems quite historically accurate and is a treat for anyone who enjoys East Asian History.
What makes me hesitant to give this a higher rating is literally just one aspect: the romance. The tension is there from the first meeting, but it is always just simmering, nothing too intense. But once a thing happens for reasons (aka a spoiler that I will not reveal), it goes from 0 to 100 real quick and that, in my opinion, affected the vibe of the rest of the story. Ahdieh also did the thing she did in The Wrath and the Dawn, where you think it's going to wrap up and be a standalone, but then PLOT TWIST TIMES FOUR AND THEN CLIFFHANGER. So that kind of threw me off, but it definitely leaves you wanting the sequel.
As a whole, this was an enjoyable book that, though not quite as un-put-down-able as The Wrath and The Dawn, will keep you interested and waiting eagerly for the sequel.
To keep up with what I'm reading, be sure to friend me on Goodreads!